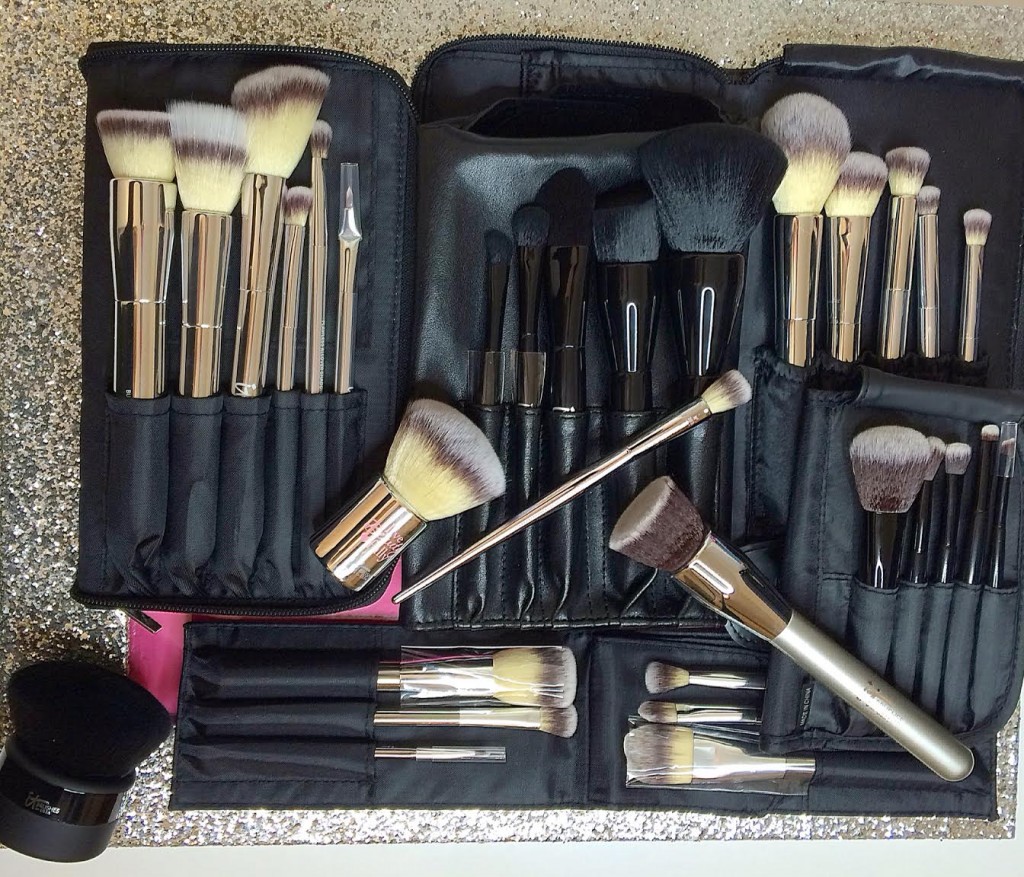 Do you have new makeup brushes on your holiday wish list? Or maybe a friend or family member does and you have no idea which one to pick from. I've been doing a ton of research to write this blog for the past few months. I know, I know. It's a tough job but someone has to do it! Recently, It Cosmetics created a whole new collection of brushes exclusively for Ulta Beauty stores. You can see them all here! But whoa! There's so many amazing makeup brush options out there that I know the choices make it even more overwhelming so i'm going to break it all down for you and share my personal picks for the best sets. In the past, I always recommended buying individual brushes because the mega 25 brush sets usually compromised quality for quantity and you'd only end up using 5 or 6 of the basic, essential brushes! These sets are small in quantity but don't skimp in quality and they are the type of brushes you will need and use on a daily basis!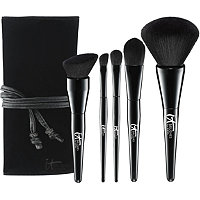 1. Velvet Luxe Blurring Collection: $98 ($210 Value!) This is the "Bentley" of makeup brushes! It's the ultimate in luxury and while it's the priciest set that It Cosmetics offers it's an amazing value for the high quality you are getting. Like all It Cosmetics brushes, this set is also Cruelty-Free 100% and made of top quality synthetic fibers. I love this set because it's amazingly plush and soft and of course the makeup just applies so flawlessly. Seriously, nothing feels as amazing as these brushes! You get in this set all the necessary essentials: powder, foundation, angled sculpting (use for contouring, highlighting or blush/bronzer), flat paddle eye shadow brush & crease brush.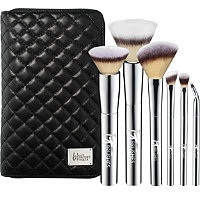 2. Airbrush Masters 6pc Advanced Brush Set: $65 ($150 Value!) This is the Mercedes Benz  "S Class" of brushes! It's still such an amazingly luxe brush set that gives you a very quick and easy to apply and blend your makeup with a beautiful airbrushed finish. You won't have to worry about seeing lines and edges like you will with other lower quality brushes. And the #1 thing I love about all It Cosmetics makeup brushes is that they do not shed like most every other brand out there! It's my biggest pet peeve to pick off loose brush hairs off my clients or my own face! Very, very rarely will you get one or two but nothing like typical brushes! Even the mega expensive ones that cost more than this whole set! I love this set because it gives you just about everything you need to do your whole face! The only thing missing is your angled brow brush and a lip brush and you will have the basic essentials. You get in this set a Powder, Foundation, Blush, Crease, All Over Lid eye shadow brush & a Bent Eye Liner Brush (perfect if you use gel liners!).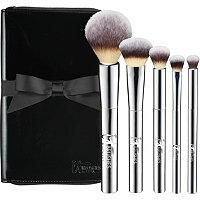 3. Your Beautiful Basics Airbrush 101 Set: $58 ($130 Value!) This is still the Mercedes Benz of makeup brushes and a part of the Airbrush Line but maybe without all the bells and whistles 😉  This is a great intro into the luxury makeup brush world and gives you the very basics that everyone needs to start off with. If you don't already have great brushes or need to start over with upgrading to better quality I would recommend starting here! In this set you get: Powder, Foundation (I personally prefer this fluffy round style vs. a flat paddle), Concealer (I also use for contouring and highlighting. It's the perfect small size for precise application), Shadow for all over lid and smaller Crease to define the eye.
4. Your Face & Eye Essentials. Mini Travel Brush Set: $30 ($80 Value!) This is your compact brush set that you want to throw in your gym back, purse or if you are way less maintenance than me and this is all you need when you go on vacation 😉 The handles are mini compared to the full set but the brush heads are the same size. All of the above brush sets are full size like the individual brushes you would buy and are around 6-7″ in length while these mini travel size are 3-3.5″. You get the necessary basics: Powder (or you can use to buff out liquid or cream foundations too), Shadow, Crease, Smudger (to smoke out that liner!) and Angled Liner (or brow brush).
***Bonus Addition*** The final 2 It Cosmetics Brush Sets are NOT from Ulta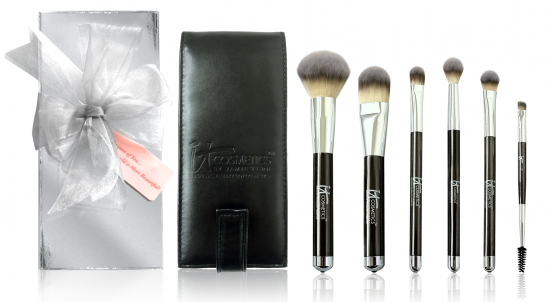 5. Limited Edition Heavenly Luxe Set: $39.50 I included these final two brush sets because I get asked about them all the time! This is a great travel set that isn't mini but about 1-1.5″ shorter than the full size. They are a great 6 piece brush set of essentials that i've been using and giving as gifts for the last 2 years. The final quantities are now only available on the It Cosmetics website and are an INCREDIBLE value. Plus these are the brushes that are blinged out on the bottom of each brush (except the double ended one). You get a Powder, Foundation, Concealer, Crease Blending, All Over Lid Shadow and a double ended brush/liner & brow groomer spoolie.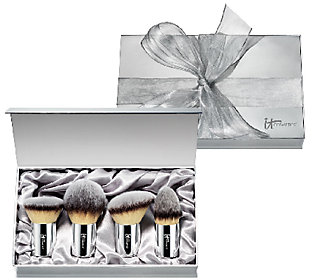 6. It Cosmetics Buki Brush 4pce Holiday Collection w/Box Exclusive to QVC: $43.64 This is a darn cute little chubby brush set. I love kabuki brushes in general especially if you prefer to use a powder foundation (loose or pressed). But…with that said. I think unless you are a super collector and already have it all, I would start with one of the brush sets above. Did I mention these are so dang cute though?! I don't think this is an essential brush set if you are just starting a great makeup brush collection. I personally would only use the pointed one on the far right and maybe the powder one that is second from the left. The other two are just like bonus novelty brushes but probably not daily essentials. They certainly do make a beautifully presented gift! But if you don't already have the right basic makeup brushes then this is NOT where you want to start. I would recommend putting the money towards a set that gives you more of the essential face and eye brushes 🙂
If you are dying for even more information on makeup brushes, I created a tutorial on the very basic essential brushes you should have in your collection. I purposely made this video non-brand specific for the most part. It's more about learning about the particular size and shape of brush to understand what it is, what it does and why you need it! MakeUp Brush Tutorial Video
If you found this blog helpful and useful please leave me your comments below. Even better yet, please share it on your FaceBook and Twitter pages which you can do in 2 seconds by clicking on the share icons below!
Muah! xoxo! Tiffany, aka CoachGlitter 🙂