Restock & Sale Alert! I just found this top for over 54% off the original price and now on sale for $26.97 but they are selling out FAST! At the time of this blog update, the hot pink color is still in stock in most sizes! Click the photo below for more details or keep scrolling down below to read more!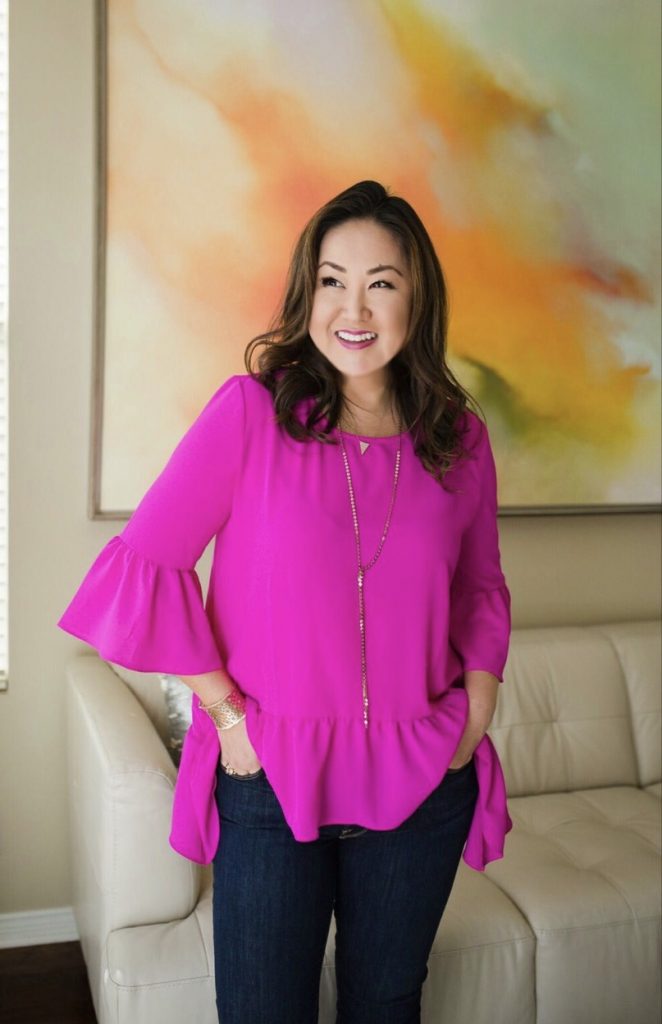 I've been obsessed with this top since I bought my first one in the late spring in a pretty floral print that sold out so quickly I didn't get a chance to share it on the blog. Then they came out with a ton of new colors that I knew would look amazing not only on camera for all the live videos that I do but also just to wear with jeans for an effortless look on those occasions I actually get out of my yoga pants and into real clothes for date night! Colors and sizes have sold out QUICKLY but I'm updating this blog regularly. The green is now completely sold out but click HERE for to check out the Pink, Cobalt Blue and more as well as the other links down below! You can also click on any photo for more product details too!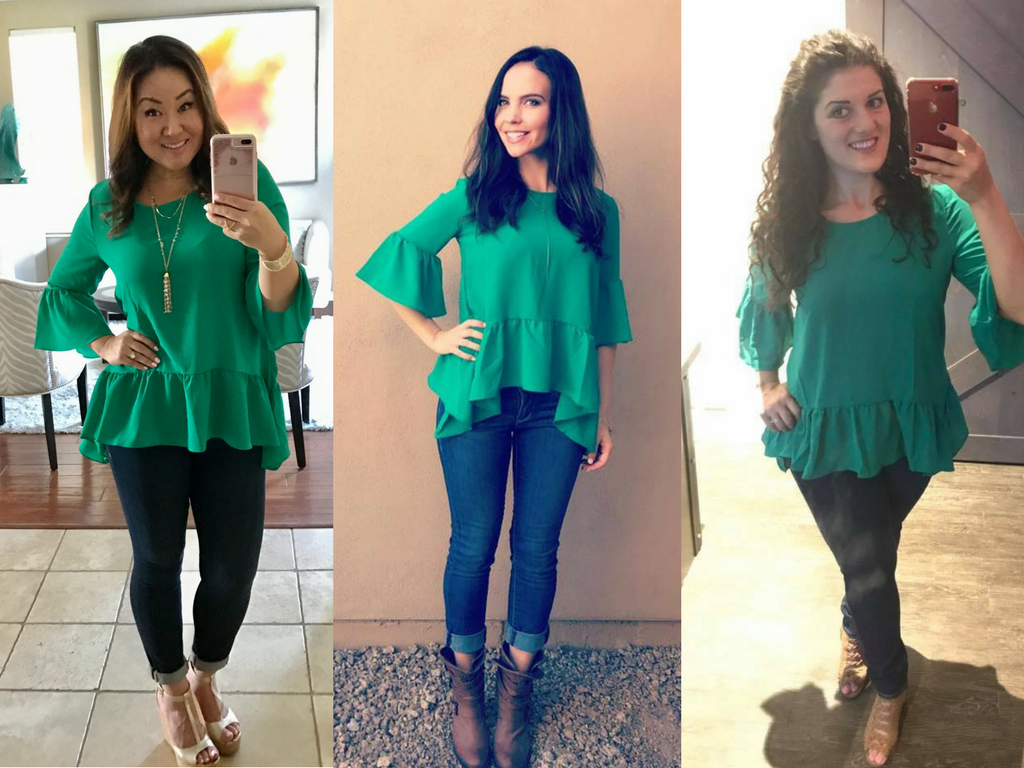 I loved this top so much and got so many compliments on it every time I wore it on Facebook Lives and from random strangers when we were out that I had to gift my Lights Camera Branding Group Leaders and Launch team with it! That's Hannah Place in the middle who has been a Group Leader since the very beginning. As soon as I get pics from the rest of my team, i'll update the post! Collaboration and team work is EVERYTHING and I wouldn't be where I am without them!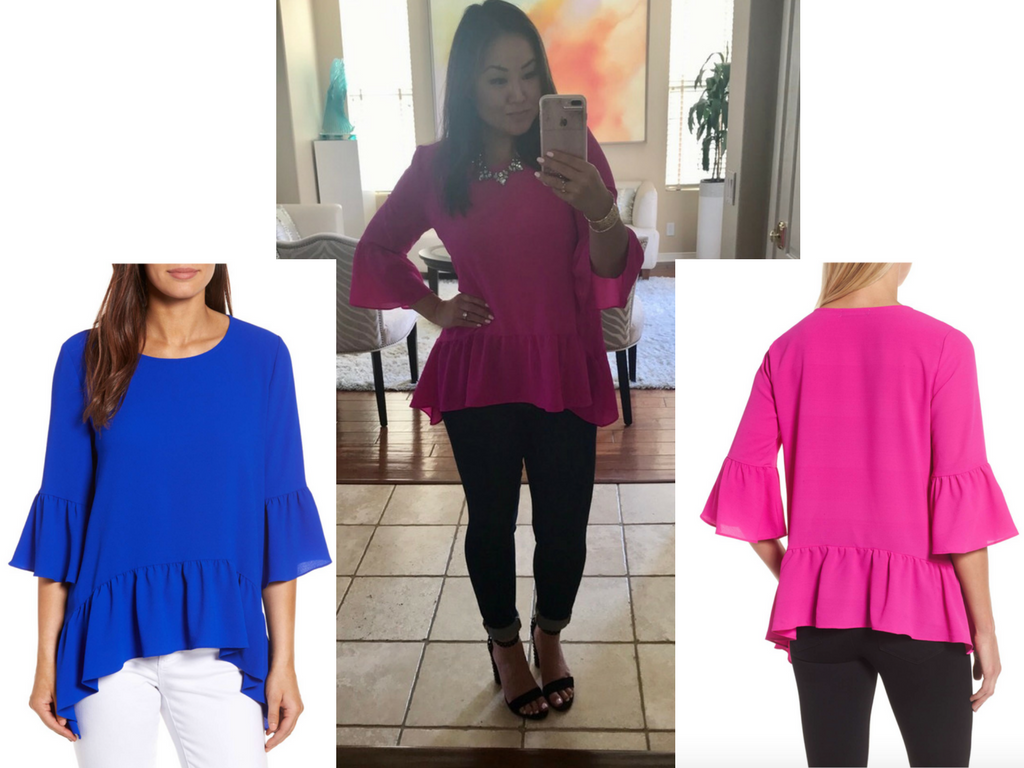 Nordstrom has been bringing this versatile top back the past 9 months in different colors and prints so keep checking back to this blog post which i'll be updating! They do sell out very quickly so don't wait if there's one that you love! If you are getting your photos taking for your online brand and/or filming videos, this top also comes in camera friendly cobalt blue and hot pink. You can get the details HERE on these colors or click on any of the photos to shop for them!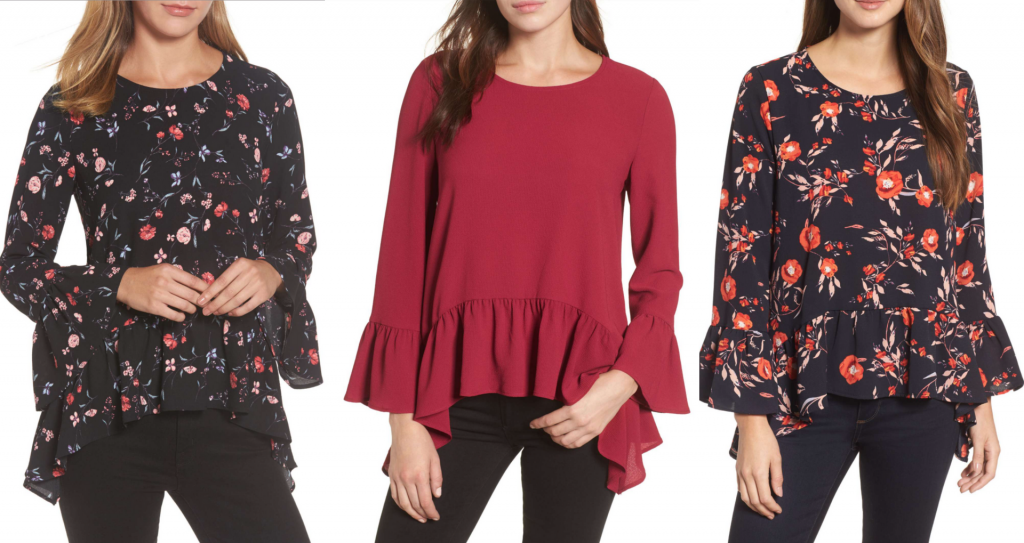 As a reference, i'm wearing the top in a size Medium. It's a very easy fit especially in the waist as it's supposed to be a flowy, ruffled style. Check the sizing chart but if you're between two sizes you should probably size down as most of the reviews on the size says it runs big. FYI, this also comes in Petites. Hannah is wearing a Petite XS and I'm wearing regular size Medium.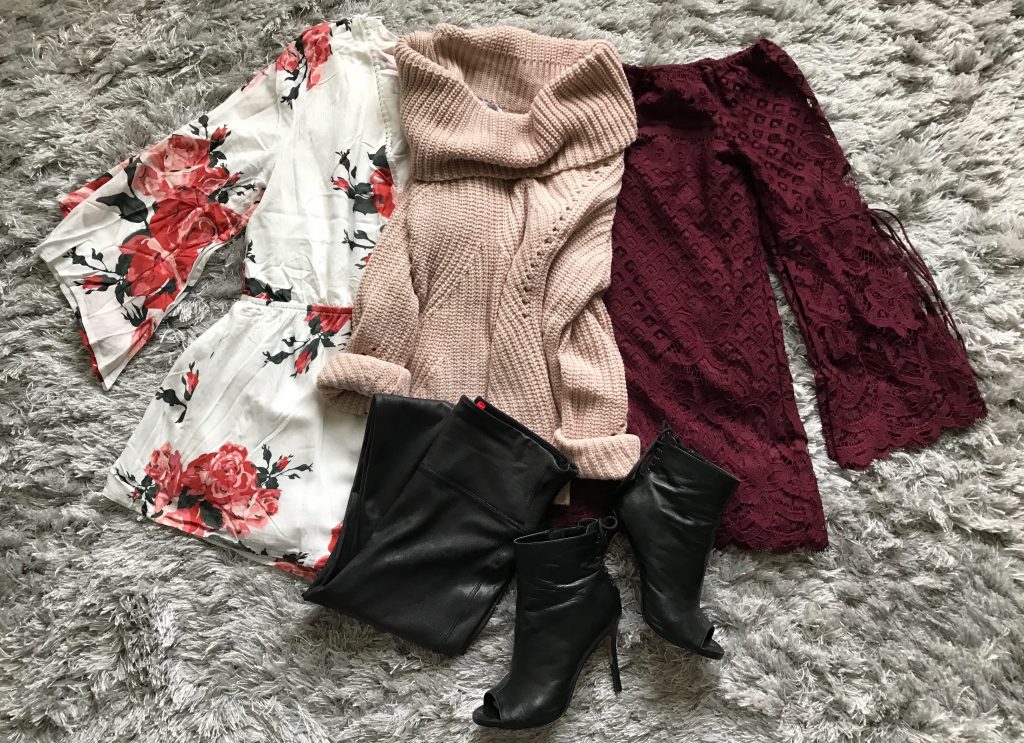 I just started shopping at a really popular Los Angeles based online store that I've seen a ton of on Instagram and Facebook called Tobi, www.tobi.com. These are my fav picks from their website and i'll definitely be checking out their website regularly for myself as well as my personal shopping clients when i'm looking for more trendier styles. FYI, their sizing is more juniors so make sure to check out their sizing charts. In the sweater I wore my usual Medium but the romper and lace dress I went up to a Large.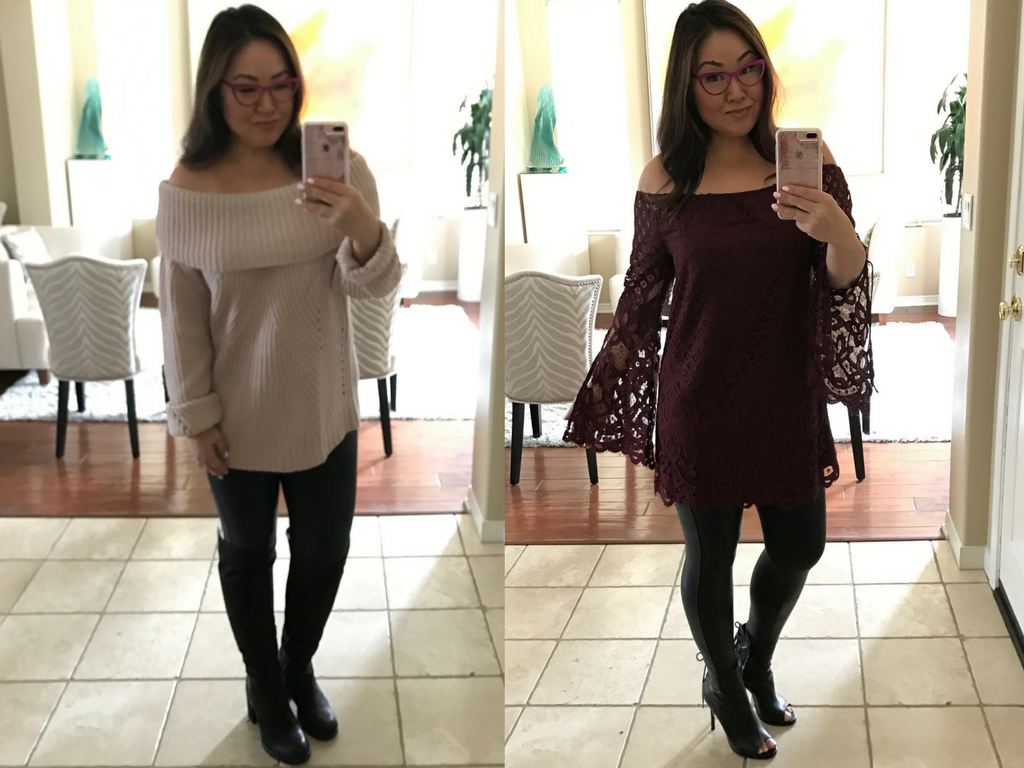 The chunky knit, perfect blush color sweater is long enough to CYA (cover your a$$) which is what I always do if i'm wearing leggings which are almost always from Spanx. These are the "leather" style which i've had for many years and are a total closet staple must-have for me and all my clients. You can check out the details HERE.
The wine color lace dress is by far my favorite pick from Tobi. It's classic and trendy all rolled into one. 80% of my wardrobe is filled with higher quality, classic staples that I'll wear year after year and 20% is trendier that i'll wear for 2-3 seasons. This dress is a gorgeous wine and a nice departure from all the black I own and I love it with the Spanx leggings. I had originally planned on wearing it with dark very opaque tights for both leg coverage as well as for warmth while i'm in NYC next week but it looked great with the leggings too! I switched out from the Over The Knee (OTK) dark bordeaux boots to peep toe booties and boom! Easy peasy outfit change! Here are the (non-affiliate) links to all three pieces that I picked up but make sure to check out their website for even more great finds at Tobi.com:
FYI, both boots are old but look for another blog coming soon with my favorite tall boots that work for athletic calves like I have and ankle booties! I'm currently still on the hunt for the best ones to share!
If you want to check out my tip-filled Facebook Live about all of the items featured here on this blog, check out the video below!
Until next time, thanks for reading and let me know if you love any of these pieces too! And thank you as always for shopping the links in my blog. Not everything is an affiliate link but some are and when you use any of my links it helps support the blog so I can continue to share my best finds and deals with YOU through new sponsors & collaborations!
xoxo!
Tiffany aka Coach Glitter
**DISCLOSURE: I may be an affiliate for some of the products that I recommend on my blog. If you purchase those items through my links I will earn a small commission. You will NEVER pay more when buying a product through my link. In fact, I oftentimes am able to negotiate a discount or bonuses/Gift With Purchase not available elsewhere. Plus, when you order through my link, it helps support this blog so I can continue to offer you lots of great free information. 🙂 Thank you, in advance for your support!