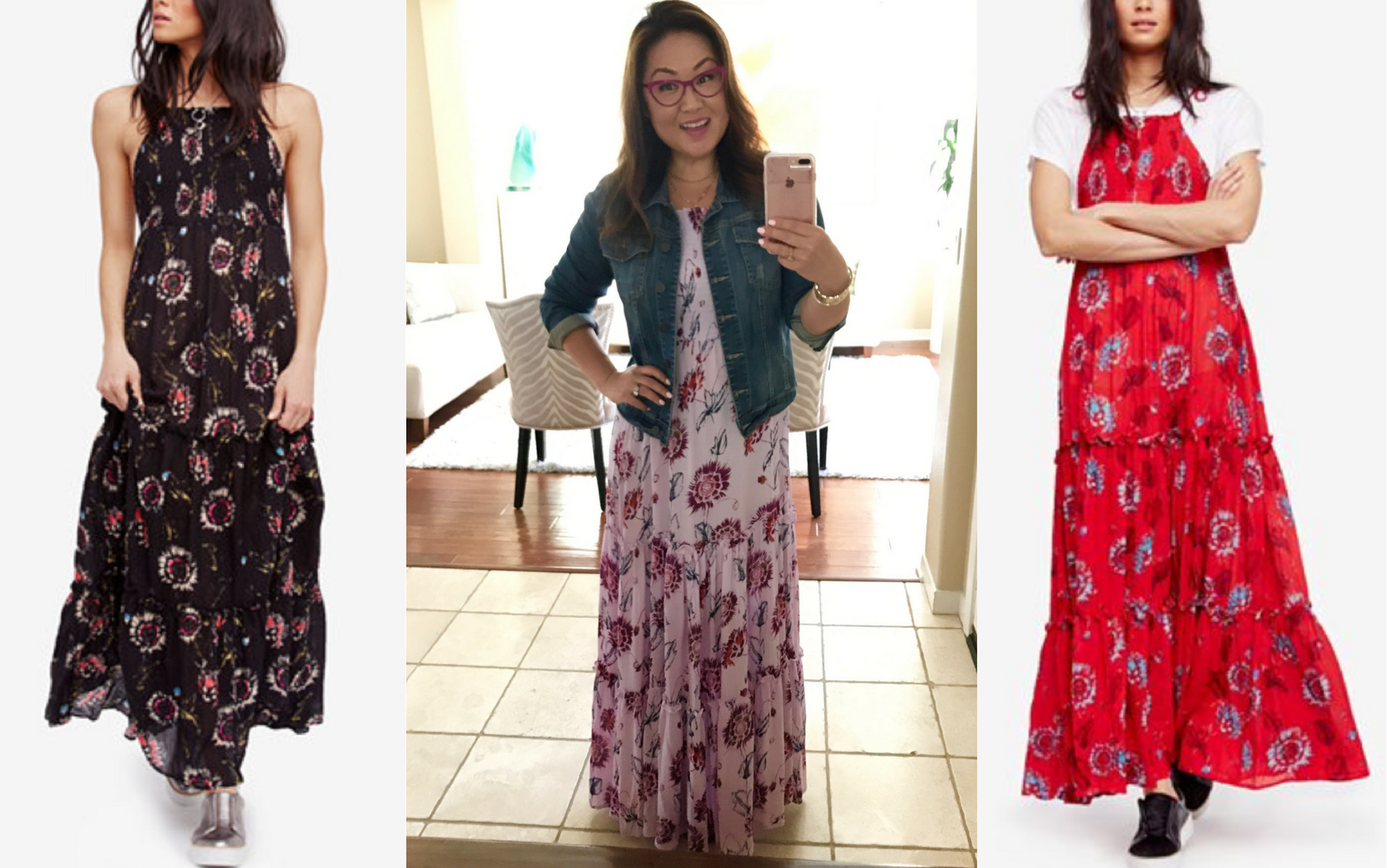 I'm seriously so in love with this gorgeous, feminine, flirty maxi dress from Free People! I've worn it to several events as well as for everyday life "stuff" and it's soooo comfortable yet you look so put together.
Plus, depending on where you live, this maxi dress doesn't have to be limited to just the warmer months. I love how the model on the right has it with a t-shirt worn underneath which you could do in the cooler months with a fitted long sleeve top or bodysuit. Okay, maybe not the bodysuit because I for sure am not going to relive that 90's nightmare of trying to clasp that sucker every time you have to visit the ladies room!
Best of all it's now on sale! I bought it for full price earlier this summer but I had to share the amazing deal I found for you! It's still full price at other department stores and i'm seriously considering get the coral one next!
Free People Garden Party Maxi Dress, Marked Down to $74.99* for the Black & Red option, $63.99 for the Lavender Was $128.00! http://shopstyle.it/l/fSV4  FYI, if you've never purchased anything from Free People, for the most part I find everything runs large as they are meant to be worn flowy. If you fall between two sizes on their chart, I'd recommending going down a size in most cases. As a reference I'm wearing a Medium in the dress and in the moto jacket below.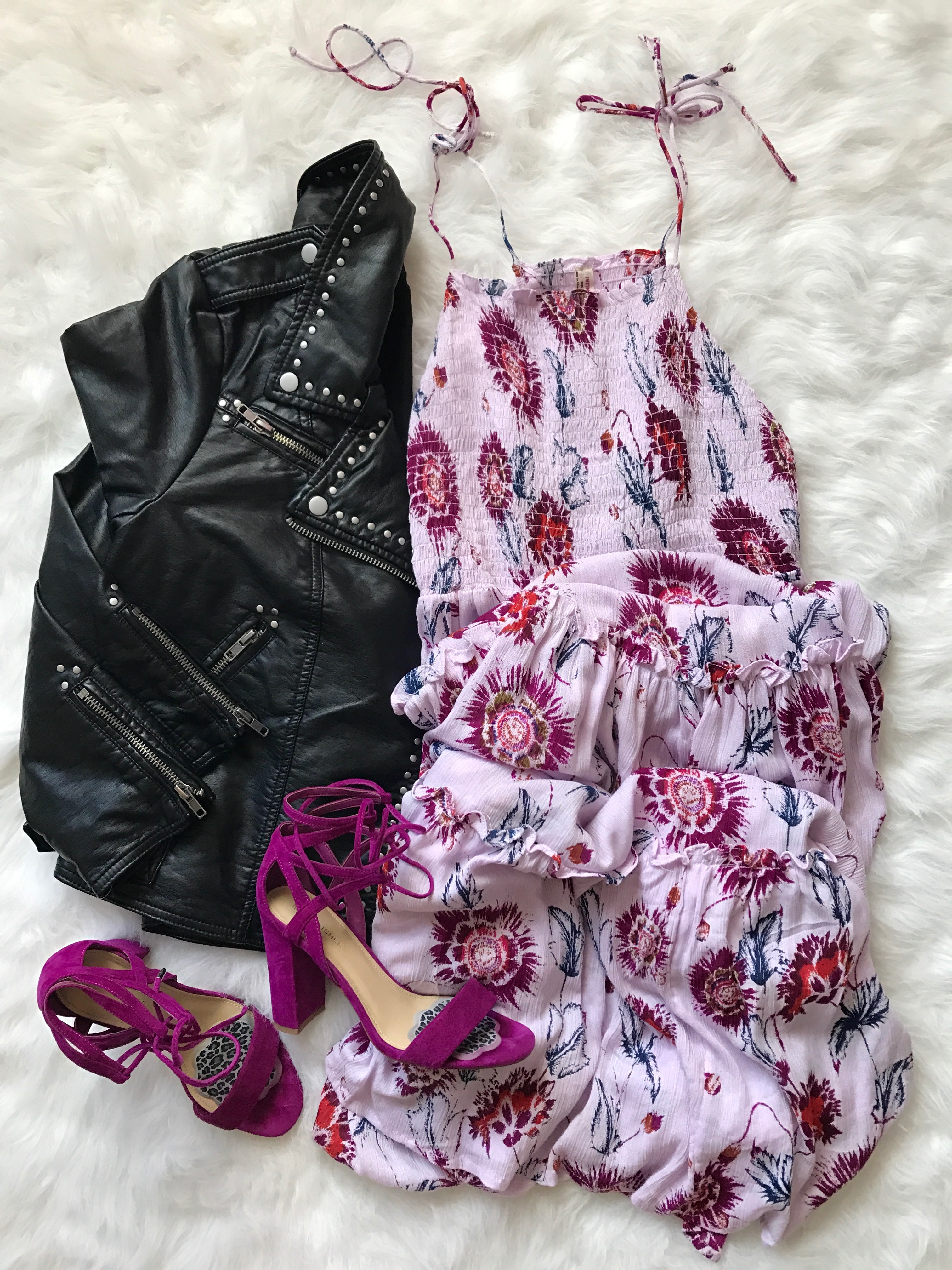 As you can see from the first picture above, I paired it with a fitted denim jacket. The top & sides on this dress are cut a bit narrow so if you dress a little bit more modestly like I prefer to do, the t-shirt or jacket is the perfect solution! The rest of the dress is absolute perfection!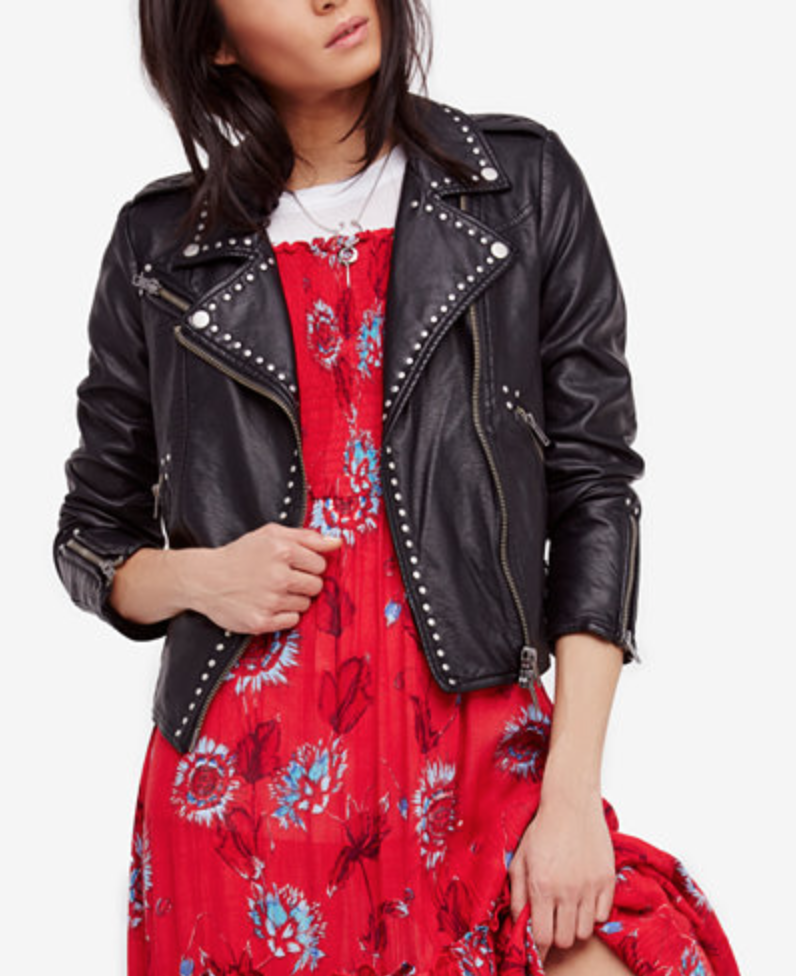 In the cooler months, i'll skip the denim jacket and wear it with this edgy vegan leather moto jacket  (http://shopstyle.it/l/fSZT) which I personally love the juxtaposition with the ultra feminine dress! And yes, it's on sale too for $114.99*, Was $198.00! That's exactly my style and maybe you love that look too! **UPDATE AS OF 9/23/17** There's only a few left in this jacket in size Small only. As a reference, I got it in a Medium and it fits slightly roomy, not super snug and i'm a size 8, sometimes 10 in blouses as I have very wide shoulders. I was a swimmer all the way through college 😉
Oh and those sandals I shared in my blog HERE earlier this summer just happens to coordinate perfectly with the dress!
As always, thank you for reading my blog & supporting it by shopping through the links that I share. Don't forget to subscribe here so you get notified when I share my next blog because I have so many things coming down the pipeline for you. Please comment below with your thoughts, ideas and feedback! Wanna get social? You can find me over on my fav social medias: Facebook, Instagram and Snapchat!
xoxo!
Tiffany aka Coach Glitter
**DISCLOSURE: I may be an affiliate for some of the products that I recommend on my blog. If you purchase those items through my links I will earn a small commission. You will NOT pay more when buying a product through my link. In fact, I oftentimes am able to negotiate a discount or bonuses/Gift With Purchase not available elsewhere. Plus, when you order through my link, it helps me to continue to offer you lots of free stuff. 🙂 Thank you, in advance for your support!