What's another one of my favorite, "desert island" beauty products? Bronzer! Yes, beautiful, gorgeous BRONZER! How could you possibly not love it?! It makes you look so healthy, glowy, tan, thinner(!) alive, rich, smart, funnier, successful…okay, well maybe not all of those things…but most of them!
What are my favorite bronzers? This has changed a couple of times over the last 10 years but a few years ago while researching & testing out new waterproof products to use on the Turbo Fire videos I stumbled upon a brand new company, ItCosmetics.
Let me tell ya, their products have made my job on set so much easier especially on hot and sweaty fitness projects! The very first product that I tried was their "Get Wet Bronzer Trio". Yes, you truly can "Get Wet" because it's not only a waterproof powder bronzer it is absolutely the most PERFECT color & texture. The powder is so incredibly finely milled which means it will never look gritty, powdery or dry on your skin even if you have more mature, texutred or Sahara Desert-like skin. You can use the matte bronzer to contour your face & add a bit of all over color glow. Lightly apply it to the natural hollows under your cheek bones and where the light/sun would naturally hit like the sides of your forehead, across the nose, chin and if you want to create the illusion of a stronger jaw line sweep it across the underside of your jaw especially under the chin to make a slight double chin disappear!
This palette not only comes with the perfect matte bronzer but the other two shimmery shades just happen to help create the perfect dimensional cheek and face. Ever wonder how the celebs get that gorgeous highlight on their cheek bones when you see them walk the red carpet? This palette will create that exact look! The pinky, champagne shimmer can be used as a subtle highlighter, over top your matte blushes on the apples of your cheeks or as an eye shadow. The white shimmer color is a very "potent" highlighter that you must use with a fluffy brush and a light hand to accentuate the high points of your cheek bones, collar bones, shoulders, etc. If you suffer from dark undereye circles it also looks amazing if you apply just a tiny soft dot to the inner corner of your eyes.
The ItCosmetics Get Wet Bronzer is an absolute beauty must-have and I can't tell you how many fitness pros use this, workout fanatics and of course makeup lovers agree that it's the absolute best bronzer on the market! I've gone through a countless number of palettes myself and give it away as gifts since I discovered them. I can't recommend it enough!!
**So I just emailed my friends at ItCosmetics after getting a bunch of messages from people who couldn't find the bronzer on their website. I almost had a heart attack when I didn't see it either. Well, the bronzer palette has been discontinued but don't freak out (like I did) because they are coming out with a new and improved bronzer this summer! Of course, I can't imagine improving on perfection but if anyone can do it it's ItCosmetics (wow, that was a lot of "it"'s in a row!)!! Until then, there are still some final quantities left of the bronzer at Beauty.com, Beauty360.com, soap.com
**Updated 7/26/11: The TWO new bronzers from It Cosmetics are now available exclusive at QVC (for the time being)!! They are each featured in an amazing value set with the most amazing luxe brushes (i'm obsessed with them!). Here are the links:
http://www.qvc.com/qic/qvcapp.aspx/view.2/app.detail/params.item.A218669.desc.It-Cosmetics-AntiAging-Brightening-Face-Disc-wLuxe-Brush
http://www.qvc.com/qic/qvcapp.aspx/view.2/app.detail/params.item.A218666.desc.It-Cosmetics-Bye-Bye-Pores-HD-Bronzer-wHydro-Collagen-Brush
See it here on my blog video ==> http://coachglitter.posterous.com/sneak-peak-at-the-new-improved-waterproof-bro
To shimmer & bronze up your body there are some Fab loose powder bronzers like MAC's or Bare Escentuals body minerals to add a bit of color & glow to bare legs and arms just in time for spring and summer. How do you make it stick and last longer on your skin? Make sure you apply moisturizer first before you brush it on or mix it with some water or a makeup fix spray in a small mister spray bottle.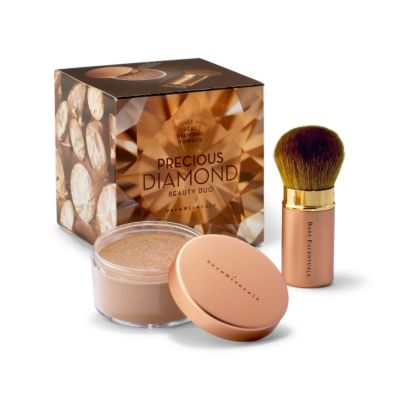 Too much work for you? Well, luckily Stila makes an amazing dry-oil bronzer shimmer spray! It's crazy gorgeous on the skin and also what I used in the ChaLean Extreme workout videos on all the beautiful girls in the video!
If you prefer a lotion try my two fave products that not only moisturize your skin but it gives you a tan as well as a shimmery glow! These two products have a bronzer built in so it's perfect if you want to deepen your spray tan or if you just didn't have time to get sprayed. These are NOT self tanners so the color will wash off the next time you shower. The color you get from both are pretty impressive straight out of the bottle. Simple Gorgeous!
My newest find and obsession, Carlene K Shine Body Bronzer:
And a cult fave made famous by Jennifer Lopez, Scott Barnes Body Bling!
Get glowing ladies and grab some bronzer!
Muah! Tiffany xoxo