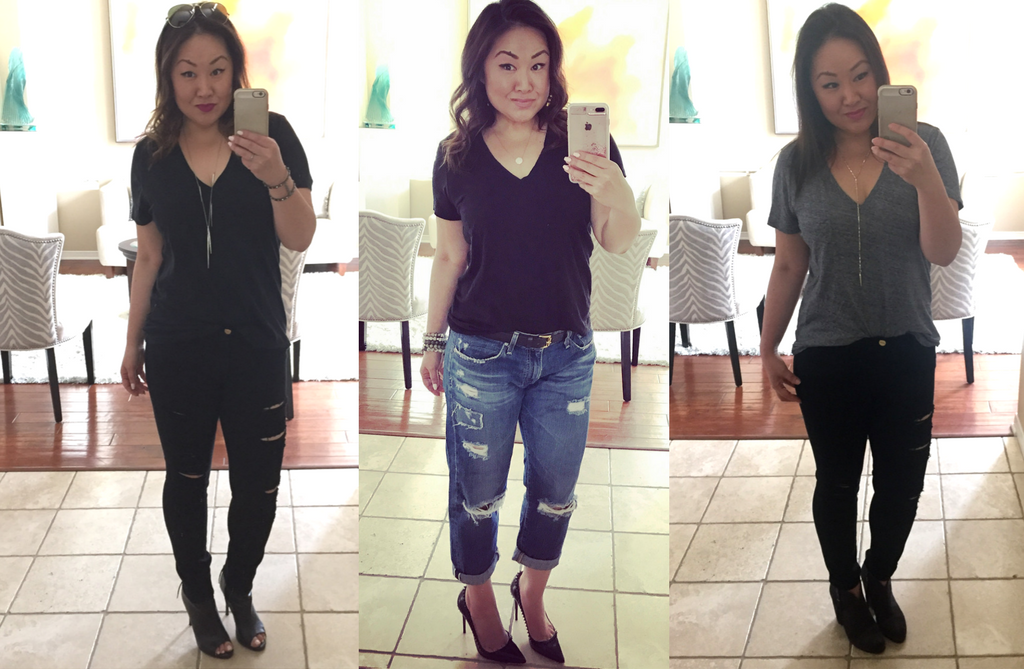 I used to think a t-shirt is just a t-shirt but boy was I wrong! Last year I discovered the perfectly flattering V neck t's from Madewell and now they have become a staple in my closet! Oh and the solid colors are only $19.50 so they won't break the bank!
These are different and so much better than any other t-shirt i've owned because of the perfect fit that skims a woman's body just right. Heck no, this is not your men's Hanes Beefy T!  Plus it's the amazing material that isn't too thick or too sheer. The pocket placement is perfect and isn't too big or too small. (Yes, the ones in my pics are the exact same ones in the links and photos below. I do have pockets but luckily they are not oversized, baggy or floppy like on many other T's which only makes it look super unflattering like you have one floppy/saggy boob! ha! The pocket is flush against the fabric which is why it's harder to see in my pics.). The length is perfect too and it doesn't need any special laundry care. I just put it in the washing machine and dryer like normal (double check the label though cause i'm notorious for just sticking everything in! I need a laundry fairy stat!). One of the things i've noticed about other t-shirts is that they seem to "warp" in shape after you wash them but not this one! This is seriously the Goldilocks of t-shirts! It's just right!
I own multiples in my two favorite colors, black and charcoal gray which you can easily dress up or down depending on how you style it. It's amazing how many compliments you can get on the most simple "t-shirt and jeans" outfit when you style it just right! Here's the link for the black & basic colors: http://shopstyle.it/l/gppd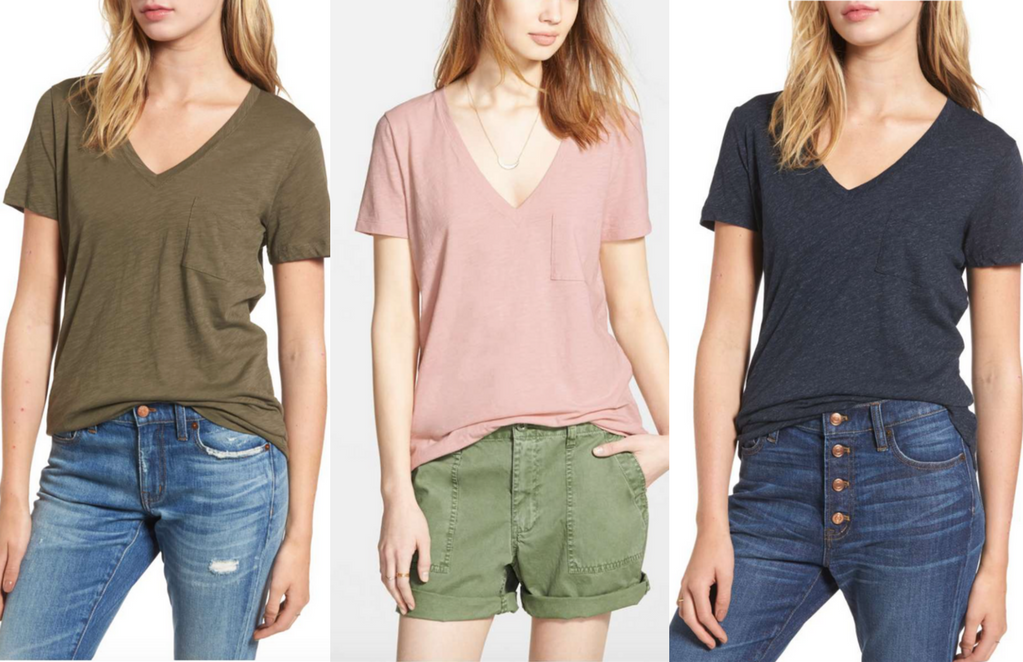 Here are a few more color options as well for the ones pictured above: http://shopstyle.it/l/gpJ5

And even more color options that were just added! http://shopstyle.it/l/gpoY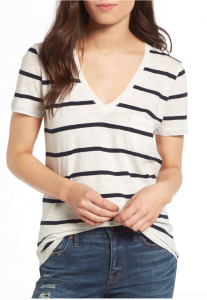 If you love stripes, they finally just came out with a new one that is oh so cute! $24.50 http://shopstyle.it/l/gsnP
This is definitely a favorite go-to, closet staple must-have that you'll wear over and over and over again!
As always, thank you for reading my blog & supporting it by shopping through the links that I share. Don't forget to subscribe here so you get notified when I share my next blog because I have so many things coming down the pipeline for you. Please comment below with your thoughts, ideas and feedback! Wanna get social? You can find me over on my fav social medias: Facebook, Instagram and Snapchat!
xoxo!
Tiffany aka Coach Glitter
**DISCLOSURE: I may be an affiliate for some of the products that I recommend on my blog. If you purchase those items through my links I will earn a small commission. You will NOT pay more when buying a product through my link. In fact, I oftentimes am able to negotiate a discount or bonuses/Gift With Purchase not available elsewhere. Plus, when you order through my link, it helps me to continue to offer you lots of free stuff. 🙂 Thank you, in advance for your support!