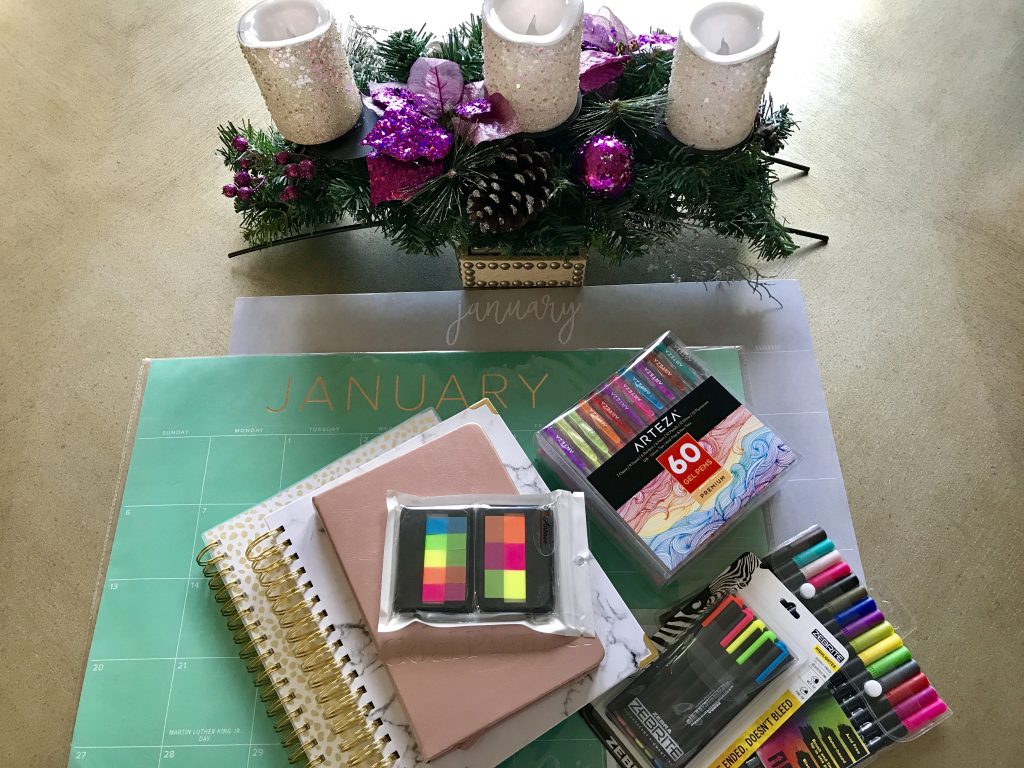 One of the most important things I do at the end of each year is to CREATE the time to pause and reflect on everything that brought me to where I am today. I've learned to celebrate the wins before I rush to create the next big goal especially the "smaller" ones that I used to dismiss so easily! Now I know that a win is a WIN!
I love the quote, "We OVERestimate what we can do in a day and UNDERestimate what we can do in a year." 
This is why using planners is a vital part of not just my business but my life as a whole! It helps me to prioritize to get more of the right things done with less overwhelm and by taking daily baby steps, they accumulate in huge ways when you look back a year later!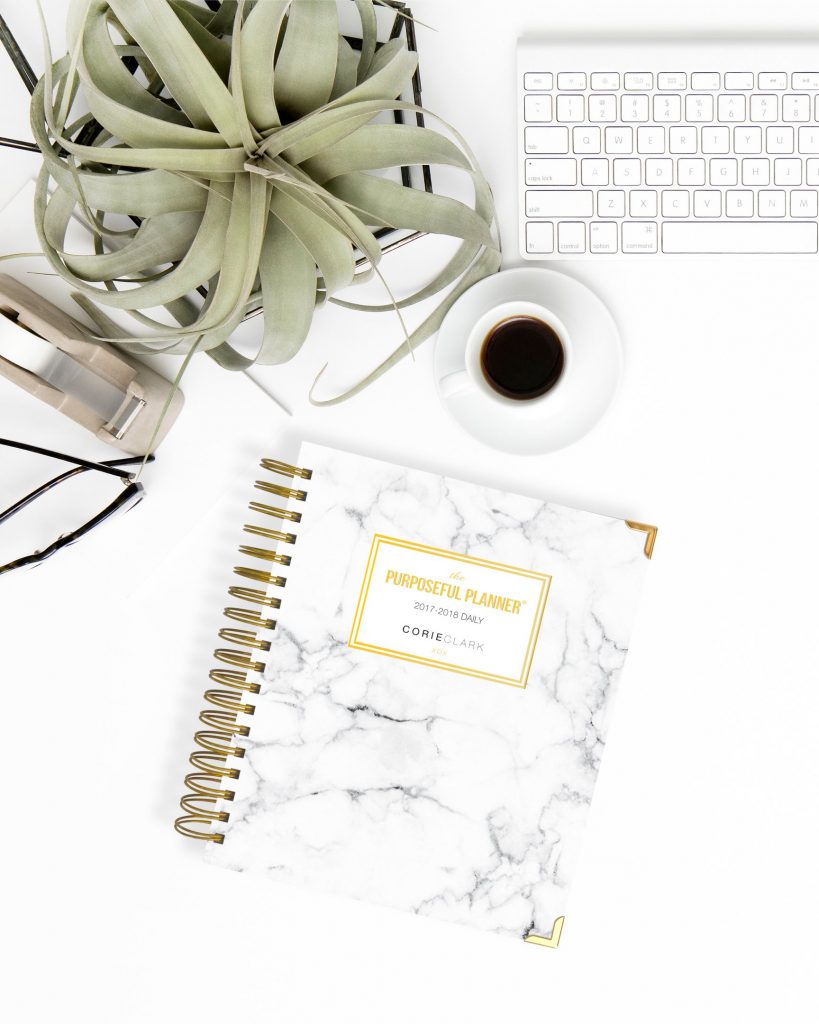 For my day to day activities for all areas of my life & biz, I use a traditional planner. Every year i'm on the hunt for the one that is going to work best for me and every year I do my highly anticipated blog post along with my Facebook Live video to share which one made the cut!
The planner i'll be using for 2019 is The Purposeful Planner by Corie Clark, the daily version (there's a weekly version as well)! The reason why I chose this planner is because it has several features that were missing from the planner I used in 2018 by Day Designer which i've used off and on over the years.
The beautifully designed marble cover planner includes:
Full page prompts at the beginning of each month for budget, menu, a master task list that breaks down different areas of your home as well as dreams & goals,
The monthly calendar is perfectly spaced to give you plenty of room to write in important appointments plus an area on the side for notes,
Full page for each day, Mon-Fri in the daily planner version that has prompts for your Top 3 goals, your schedule broken out by the hour from 6am to 9pm, health goals including a spot to check off each glass of water you've had, 15 minute cleaning suggestions, prayer & praise, brain dump area, retail therapy & menu,
Inspirational, motivational, spiritual as well as some Bible based quotes sprinkled throughout the pages
What I love about this planner is that it encompasses the most important areas of our life as a whole person which I bet we're a lot alike and balancing our business/work life with everything else.
As a former recovering workaholic….okay, i'm still actively working to improve on that, I can get so focused on my business but it's all the important areas that easily slip like working out/being active daily, meal planning, scheduling in self care and focusing on filling up my soul spiritually with daily meditations and prayers.
I know you'll love this planner if you're like me and looking for a "whole person" essentialist (I swear by the book Essentialism and currently reading it again for the third time with my private membership community!) approach to planning, scheduling and prioritizing your life!
Here's the link to check out more info https://coachglitter.com/purposefulplanner  and use Code: coachglitter for 15% Off!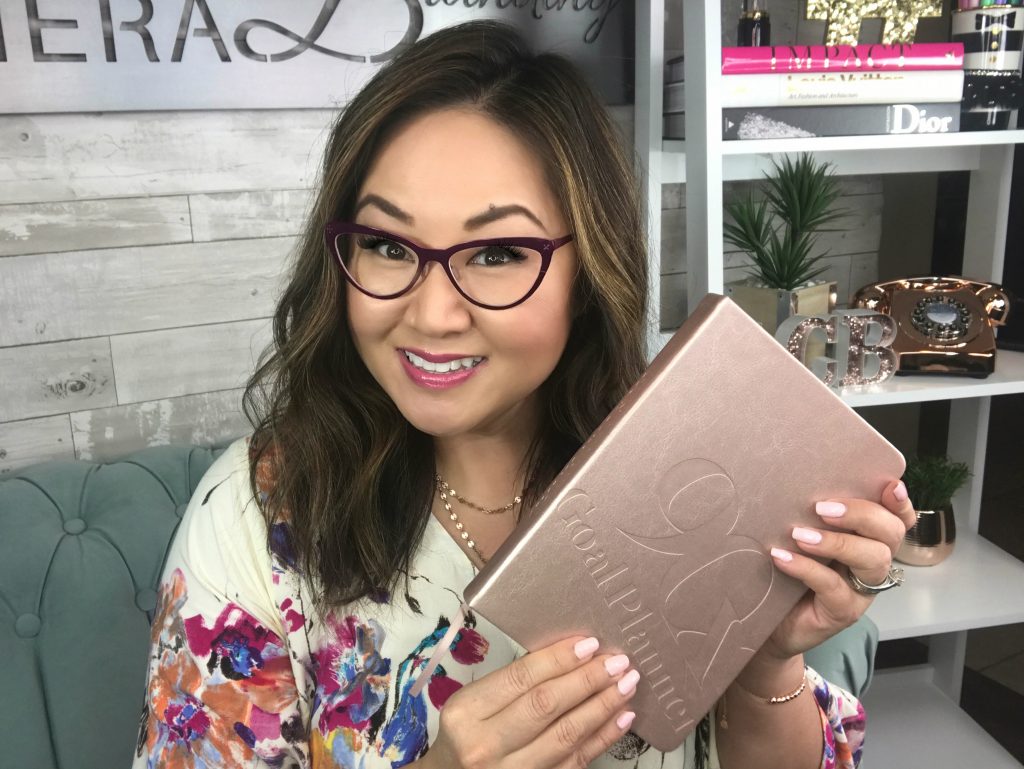 Earlier this summer I started using a second planner for a very specific purpose! You might be wondering why I use two planners? Great question!
My mentor, business coach and dear friend, James Wedmore gave us a 90X Goal Planner at one of his live events and I fell in love with it! Everything that I was doing specifically to plan out big business goals especially with my launch planning I had been doing in plain notebooks. I've also created quarterly goals for the past 6+ years to break down those big, lofty annual goals into doable, chunked down, baby step goals. Remember that quote above about how we underestimate what we can do in a year… quarterly goals makes it happen one day at a time!
What I love about the features inside the 90X Goal Planner:
it teaches you how to create a quarterly goal SYSTEM with detailed instructions at the front of the planner,
Chunk down your 90 day quarterly goal into 5 main goals that then gets chunked down further into monthly, weekly & daily actions steps! This is KEY!
Also goes into the mindset of WHY these goals
Areas to brain dump!
30 day overview monthly calendar
Weekly overview
Daily action steps, 5 mini baby steps that gets you closer to your goal
Inspirational & motivational quotes sprinkled throughout
comes in many colors including my fav, rose gold
The 90X Goal Planner has several different cover design options & colors but the one I personally use is called The Maya. 
To learn more, go to https://coachglitter.com/90xplanner If you use my code: coachglitter you'll also receive 10% off plus a free sticker pack ($19.95 value) and a free coordinating pen ($3.95 value)!
Speaking of pens (one of my fav things for sure!), I included a few of my favs along with other journaling essentials below!
Arteza Gel Pens 60-Individual-Colors Acid-Free & Non-Toxic, $15.99 https://amzn.to/2BLqZIu

Zebra Zebrite Double-Ended Highlighter, Chisel and Fine Point, Assorted Colors, 5-Count, $5.63 https://amzn.to/2V9eTSm

Antner 400 Pieces Pop-up Page Markers, 6 Sets 3 Sizes, $5.75 https://amzn.to/2LFpOyK

The large desk size calendars you see above is an annual Target dollar bin aisle find that only happens this time of year! They come in several different colors and designs and only $3.00! I don't have a link for you as it's not on their website and only lasts a few weeks at the end of December but here's another option from Amazon: https://amzn.to/2BKEZlR

Here's the Facebook Live I did about these planners if you'd like to learn more!

Happy planning and wishing you the healthiest, happiest and most prosperous year ahead!

xoxo!

Tiffany aka Coach Glitter

**DISCLOSURE: Hey Friend! I may be an affiliate for some of the products that I recommend on my blog. If you purchase those items through my links or discount codes, I will earn a small commission. You will NEVER pay more when buying a product through my link. In fact, I oftentimes am able to negotiate a discount or bonuses/Gift With Purchase not available elsewhere. Plus, when you order through my link, it helps support this blog so I can continue to offer you lots of great free information.

Coach Glitter is a participant in the Amazon Services LLC Associates Program, an affiliate advertising program designed to provide a means for sites to earn advertising fees by advertising and linking to amazon.com

🙂 Thank you in advance for your support!