One of the questions I get asked most about my business is why I decided to create a "BACKEND" Membership two and a half years ago!
It was a business model that was a lot newer just a few years ago which in entrepreneur years is like "dog years"! But these days they are growing more and more popular!
That's why I'm going to share with you all the juicy details on why I created it, how I did it, what makes it different than my Signature Group Coaching/Course Program, Lights Camera Branding, and the very important Pros and Cons to consider if this is something you're considering creating for your own biz as well!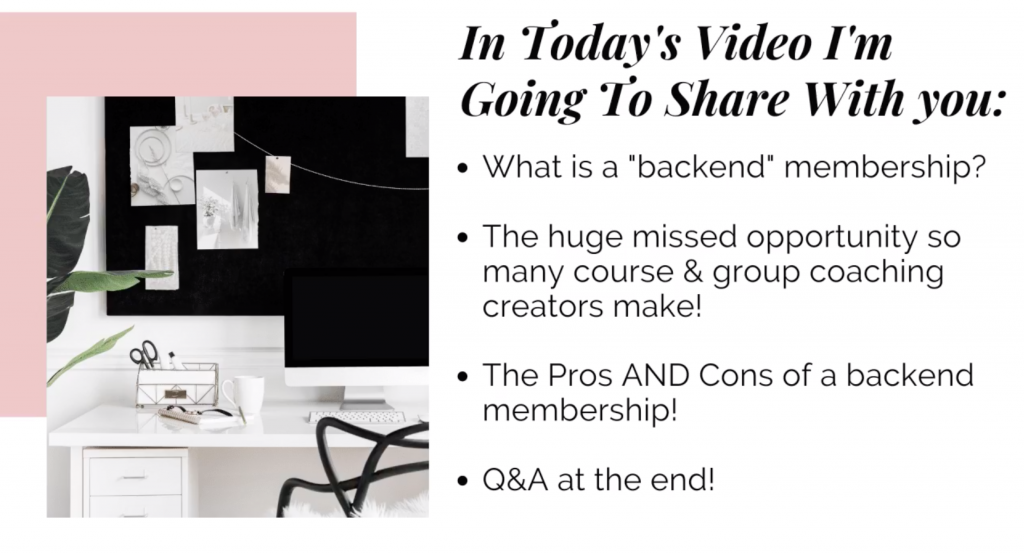 Here's a sneak peek of what we talked about: 
[10:38] What is a 'backend' membership?
[16:19] The huge missed opportunity so many course & group coaching creators make!
[22:10] The pros and cons of a backend membership!
What is a 'Backend' Membership?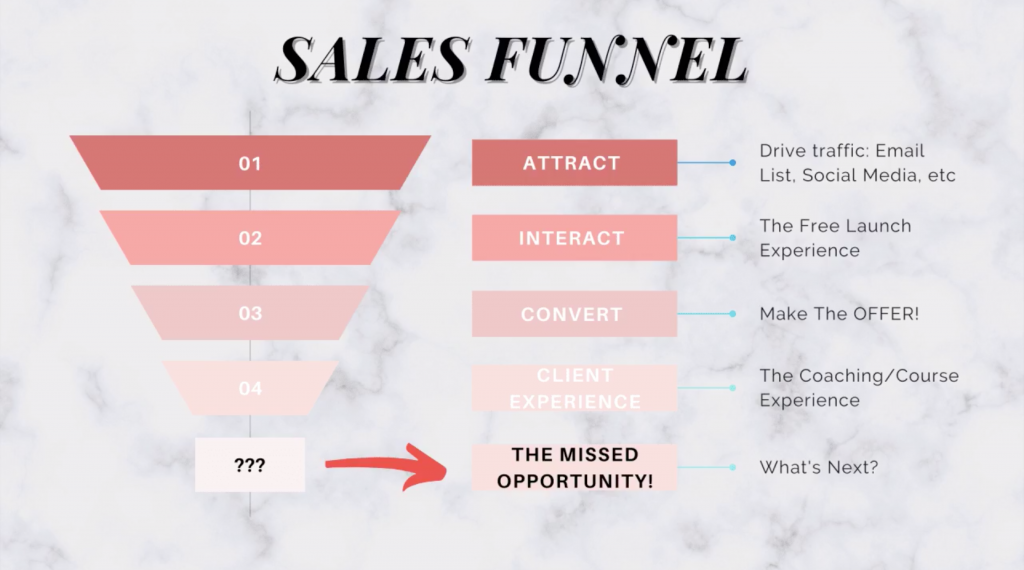 In a typical sales funnel at the top of your funnel you're attracting your ideal clients and customers by showing up and serving.
That can be done through a weekly Facebook Live, blog post, email list, or even social media posts.
Then, it's about interacting with our ideal clients and customers so that we can bring them further down the funnel into a free sales or launch experience. Whether that's a challenge launch or video series, your free experience gives people an opportunity to see what it's like to work with you.
If they love this free experience, then they can imagine what it's going to be like to work with you in your paid offer. Once somebody invests in you, it's all about creating an amazing coaching or course experience.
Lastly, at the bottom of the funnel is the opportunity that so many successful course creators and coaches miss! That missed opportunity is the backend membership. This is not only another stream of income for your business, but it's something that takes your clients and customers from "learning" the thing to "mastering" the thing!
To hear more about the amazing opportunity that a backend membership presents, skip ahead in the video to 10:38. 
The Huge Missed Opportunity so Many Course & Group Coaching Creators Make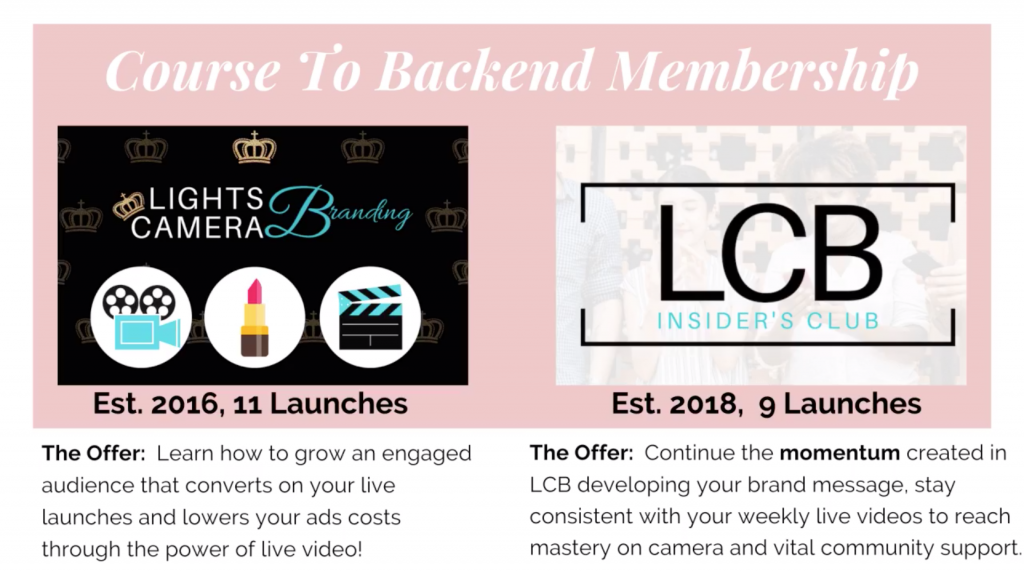 My signature program, Lights Camera Branding (LCB) was established in 2016, and to date, we've done eleven public launches!
LCB is my frontend course offer that is available for anyone interested in growing an engaged audience that converts on your live launches and lowers your ads costs through the power of live video. You get lifetime access to the course curriculum, but the live coaching element typically ends after eight weeks.
The LCB Insider's Club was born to continue the momentum that we created in LCB so that my students could develop their brand message, stay consistent with their weekly live videos to reach mastery on camera, and get the vital community support they needed to take their businesses to the next level. If you don't have an opportunity for your students to continue the momentum that they gained from working with you, that is a huge missed opportunity for both them and you! That's why a backend membership is a game-changer.
The Pros and Cons of a Backend Membership 
There are some major pros of having a backend membership:
Your students are going to feel relief because they never have to feel behind.
As the membership is at a much slower pace this becomes the solution that your students are looking for to help them achieve mastery.
Instead, of more content, your membership creates the opportunity for coaching, implementing, and taking consistent action.
The content that you created in your course becomes the foundation for coaching and supporting your students to implement what they've learned.
A backend membership is a long-term commitment, which means it is not for everybody:
You have to look at your lifestyle and decide if you have the capacity to commit to this for the long-game. If you don't, stick with the course.
Another thing to consider is if you have enough volume on the frontend of your business to sustain the backend. This means crunching the numbers to see if you have enough students or alumni.
The data doesn't lie and it's important to know the minimum number of people that you need in your backend membership to make it worth the blood, sweat, and tears it will take to create it.
You never want to create a bad experience for your clients and customers. Knowing what you're going to be able to do and what you can offer to your members will help you truly serve your audience in the best possible way!
To hear me dive even deeper into the pros and cons of a backend membership, skip ahead in the video to 22:10.
With Grit & Grace, xoxo!
Tiffany aka Coach Glitter